Posted by Myyu Duong, August 18, 2021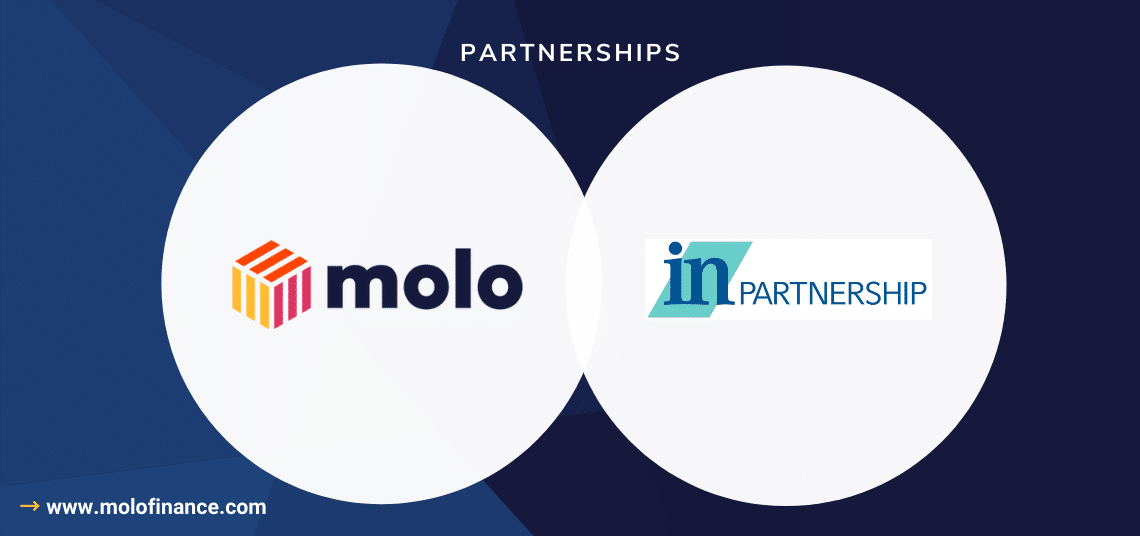 We are delighted to announce our partnership with In Partnership Group, a growing community of over 500 investment, mortgage and protection advisers. In Partnership delivers high-end services to its clients and will now offer Molo mortgages as part of its services. 
The collaboration helps us expand our intermediary distribution and offer the best in unique digital mortgages to a larger pool of customers who opt for a broker service rather than going direct with the lender. 
Speaking about the partnership, Francesca Carlesi, CEO and Co-Founder of Molo, said:
"We are delighted to partner with In Partnership, who provide expert advice and services in the financial industry, including to anyone seeking new buy-to-let mortgage opportunities. In Partnership is another excellent addition to the partners we already have here at Molo". 
Tim Coghill, Head of Strategic Partnerships echoed Francesca's comments, adding
"We are delighted to partner with Molo Finance. In Partnership prides itself on offering members access to the best deals in the market in order that they can fully satisfy their clients' needs. Molo Finance's innovative mortgage offering is a valuable addition to our lender panel."
Our use of technology to speed up the lending process combined with In Partnership's growing network of finance professionals is the perfect fit to offer entirely paperless mortgages to even more buy-to-let investors looking for their next investment opportunity. 
About Molo Finance
Molo launched in the UK at the end of 2018 as the first fully digital, direct to consumer, mortgage lender in the UK, leveraging a proprietary tech platform to deliver simpler and faster online, paperless, buy-to-let mortgages. Molo's vision is making home ownership easier for everyone and this includes plans to offer residential mortgages in the future in addition to buy-to-let. Find out more at https://www.molofinance.com/ 
About In Partnership
In Partnership was founded in 2000 in Horsham, Sussex. It is a fast-growing network of over 500 investment, mortgage and protection advisers who share a common aim: delivering high quality advice to clients. With 85 employees, it has remained financially stable throughout its history with the backing of Russell Investments', one of the world's leading investment companies, which allows In Partnership to offer more to its adviser network. Find out more at https://www.inpartnership.net/nfe/ 
Press Contacts
Myyu Duong, Molo
press@molofinance.com
Sam Uden, Hotwire
07443 956 730 // sam.uden@hotwireglobal.com
Recent articles
Molo partners with Colcap Financial
Friday, 29th July 2022: We are thrilled to announce our strategic partnership with ColCap Financial ("ColCap"), a leading Australian mortgage lender that is partnering with Molo to expand into the UK. The partnership includes a broader strategic alliance between the two lenders that will allow ColCap to expand into the UK market as the first …
Posted by Myyu Duong
July 29, 2022
How long does the interest rate stay the same?
When you get a mortgage, you'll be charged a rate of interest on the loan. This can be fixed for a period of time or change over time, depending on the type of mortgage you choose. Each lender will offer their own rates on their deals, but all rates are influenced by the Bank of …
Posted by Oliver West
April 21, 2022
Limited company buy to let
Purchasing property using limited company buy to let Rents are growing at their fastest pace in 13 years and tenant demand is high.  According to Zoopla's latest rental market report, rents rose by 0.3% between October to December 2021. Meanwhile demand from renters rocketed by 76% in the New Year compared to the same period …
Posted by Simon Banks
April 13, 2022