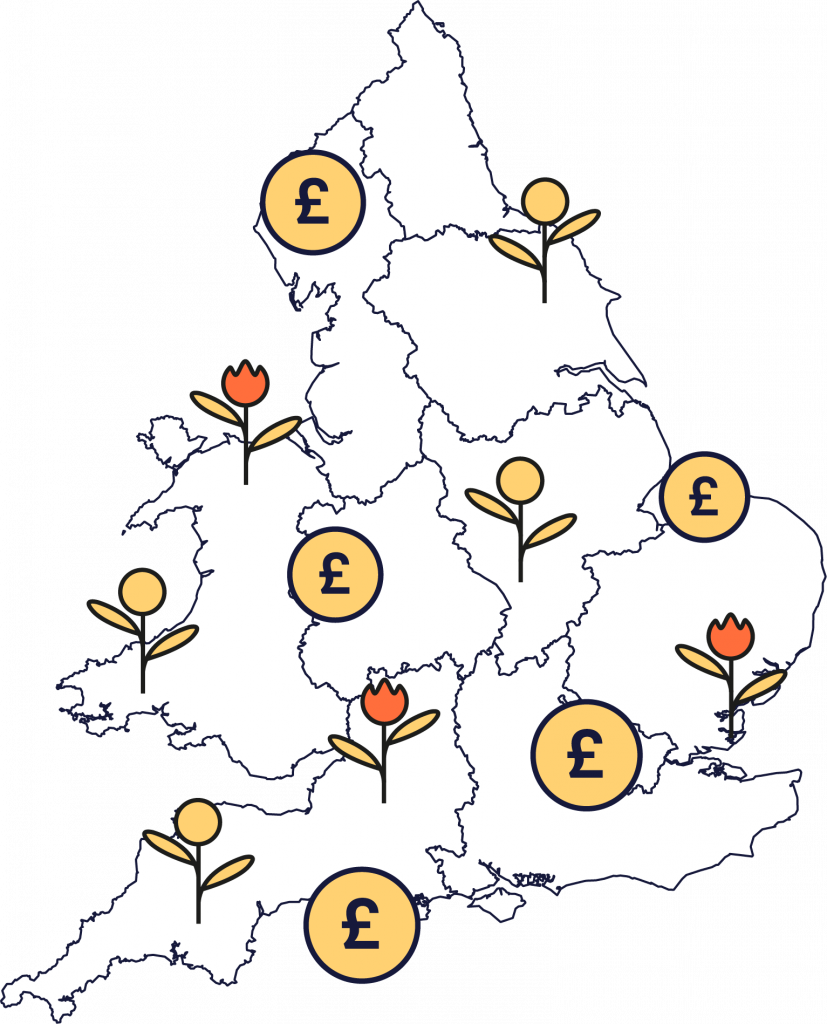 Powered by data from Molo • Last updated September 2023
Use the rental yield calculator to calculate both the gross yield and the average monthly rent. Compare the results with your chosen locations*
Found a buy-to-let property?
See how much you can borrow in minutes

Skip the wait times with a fully digital mortgage application

Get an affordable buy-to-let mortgage on a short-term fixed rate

Rental yield is an important factor to consider when purchasing a buy-to-let property. It allows you to understand how much you can expect to earn from your investment.
When looking into a buy-to-let mortgage, lenders have specific criteria, such as an Interest Coverage Ratio, that you need to meet, and the size of the loan they offer depends on the property's rental income.
The rental income and yield go hand in hand – the higher the yield, the better your returns in most cases. You'd want the monthly rent to satisfy the lender's criteria, as well as provide you with an income each month that makes the investment worthwhile.
Our rental yield calculator offers a fast and easy way for you to discover the viability of a property, whether it's a current investment or potential buy-to-let.
How to use our rental yield calculator
The rental yield calculator and map is designed to help you discover rental yields across locations in England and Wales, so you can better understand the returns on your property investment.
Molo uses data based on Nomenclature of Territorial Units for Statistics 3 (NUTs) 3, which encompasses approximately 174 regions in England and Wales. The data covers regions and boroughs as opposed to specific neighbourhoods or postcodes.
For instance, you can discover yields for the London Borough of Chelsea and Kensington or the Borough of Hammersmith, rather than a single postcode.
Before you invest in a buy-to-let property, you'll want to get an idea of how much rental profit you can earn.
These are the factors you should take into account when deciding how much rent to charge, as it will affect your rental yield. You can use our calculator to determine how much rent you need to reach your target yield.
Gross Rental yield is the percentage of profit you can expect to achieve, based on the cost of the property and your rental income before any additional expenses, such as maintenance and stamp duty.
Net rental yield is the amount left after factoring in expenses.
What is a good rental yield?
A good yield on your buy-to-let property depends on a variety of factors, particularly the location you choose to invest in. Our research shows the average rental yield for England and Wales stands at 4.98%, meaning a good rental yield will generally sit slightly above this.
To earn a good rental yield, it's best to make an investment in an area with a high demand for rental properties and a growth in house prices.
CEO at Molo, Francesca Carlesi explains, "From a rental yield perspective, areas to target at the moment include locations in the north of the country (with low property prices and high rental prices), as well as commuter cities (with a high demand for properties). However, it's important to also consider fast growing cities or university areas which will allow a steady stream of tenants and have strong capital investment growth."
A good rental yield will also depend on the type of property you invest in, so make sure you choose the right buy to let property.
How can I increase my rental yield?
There are a few factors worth considering once you've invested in a buy-to-let property in your preferred location. You always run the risk of having to carry out emergency repairs on your property, which is why it's a good idea to cover yourself with a landlord's insurance policy (make sure you take this additional expense into account).
There might also come a time when you struggle to secure tenants. Maximising the property's ROI will allow you to mitigate some of the financial risk brought on by unforeseen circumstances.
Here are a few ways to go about it:
*Averages were found in each location by using internal data