A better way to buy to let
Take the stress out of borrowing with a fast and simple way to mortgage. 
A better way to buy to let
Take the stress out of borrowing with a fast and simple way to mortgage. 
Find the mortgage that's right for you
We offer a range of mortgages for all types of buyers and home owners
Browse our buy to let rates
The mortgage calculations below are based on a loan amount of £150,000 with 75% LTV. For a personalised illustration, please visit our buy to let rates page.
Find out if you meet our full lending requirements before applying
Rest assured you're in good hands
Your experience is at the heart of what we do.
Check in on your
application any time.
See what you could borrow,
fast and for free.
Learn more about buy to let mortgages
Do you know your AST from your EPC?  There's plenty of technical terms that you might not be familiar with if you're a new landlord (or even if you're a seasoned pro). So we've put this handy guide together with the A-Z of being a landlord and some of the key terms you can expect to come across as you navigate the buy-to-let market. From deposits to client money protection and gross yields to unfurnished, here are the most important phrases you need to know when you're a landlord. 
Investing in BTL for the first time?
Landlords would be forgiven for thinking buy-to-let investing is perhaps not as appealing as it used to be with the 3% stamp duty and removal of tax relief on mortgage interest rates. However, when done right, buy-to-let can still be a profitable venture where you earn short-term income while watching your investment grow in value in the long term. If you're investing for the first time, you'll need to know the best way to approach getting a buy-to-let, from how to find a property to what's needed for a mortgage.
Extra stamp duty costs have made it harder to purchase a buy-to-let, but it's still one of the most popular investment types in the UK. After all, the saying 'safe as houses' was coined for a reason. If you're thinking of getting a buy-to-let, should you take the plunge? We investigate with a look at the current market, including what landlords need to navigate, how to find the right property and everything else you should know. So read on and make an informed decision about if buy-to-let is worth it.
The initial rate allows lenders to set specific interest charges over an agreed period on your mortgage. It's also known as the initial term cost and is regulated by the Financial Conduct Authority (FCA). But what is its purpose and how does it affect your mortgage and the amount you pay every month? We've put this guide together detailing everything you need to know about the initial rate, what happens when it's over and what you should do next to ensure you've got the best mortgage deal available.
Get a Mortgage in Principle
Find out how much you might be able to borrow from us.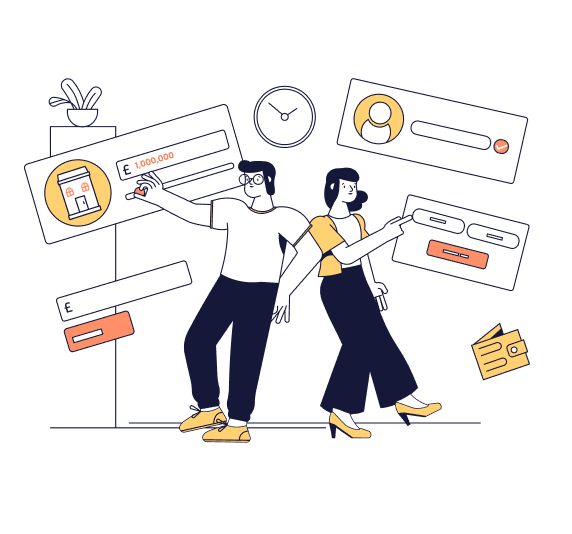 Getting your Mortgage in Principle is free and shows how much we are able to lend you.
It won't affect your credit score
We make a "soft" check with our credit agency partners, wihch means the results won't impact your credit score.
Get your Mortgage in Principle in less than two minutes, straight from your computer or phone.