Buy-to-let mortgage explained
Everything you need to know before applying for a buy-to-let mortgage
A buy-to-let mortgage is a type of loan specifically intended for purchasing or remortgaging a property that will be rented out to tenants, rather than being used as the borrowers own home. The individual taking out the loan is referred to as the landlord, and they will enter into a tenancy agreement with the tenant(s), usually under an AST (Assured Shorthold Tenancy). 
Molo offers buy-to-let mortgages to both individuals and limited companies. Limited companies established solely for the purpose of property investment are known as Special Purpose Vehicles (SPVs).
Learn more:
Five great benefits of getting a buy-to-let mortgage with Molo
Who can get a buy-to-let mortgage?
Anyone really! However, there are a few things you'll need first, such as a deposit, having a plan in place to either pay off the remaining loan or refinance at the end of your mortgage term and an understanding of how mortgages work.

Buy-to-let mortgages are for people who want to invest in properties and become a landlord, but they don't have the cash to buy a property outright. Subsequently, you'll need a buy-to-let mortgage in order to purchase the property.
The first step in getting a buy-to-let mortgage is to make sure you qualify by meeting the lender's criteria. You can either do this yourself by researching mortgage lenders, or by going through a mortgage broker, who will make a note of your details and look for a mortgage matching your requirements.
Once you've found a mortgage lender and you think you qualify, you'll need to submit a mortgage application and officially begin the process. Part of this includes passing an affordability check, but remember, each lender has a different affordability model which determines if you can cope with the costs of obtaining a mortgage. Generally speaking, affordability tests are devised based on income as well as credit data and your current financial commitments. 
How do Buy-to-let mortgages work?
The majority of mortgages are paid on an interest-only basis, meaning every month of your mortgage term sees you only paying the interest due but nothing to repay the capital. For instance, if you take out a £200k loan on an interest-only balance, you will still have £200k in capital to pay at the end of the term. 
Interest-only mortgages are a good way of keeping your monthly payments down to a minimum so you can receive more profit from the rental income. However, you must have a plan to pay back the loan in full or remortgage at the end of the term. 
Capital repayment is the other option, which sees you pay both interest and the actual borrowed amount each month. You'll reduce the amount owed using this method, but the monthly payments are considerably higher on a repayment mortgage.  
Learn more:
Where can I get a buy-to-let mortgage?
You have two options when it comes to getting a buy to let mortgage: source it yourself by doing research and choosing the lender you think best suits your needs, or you can decide to use a mortgage broker. 
A mortgage broker arranges the mortgage between you and the lender. They work with you and put your needs first to determine what type of mortgage is needed to find the best deal. Mortgage brokers can be helpful as they tend to save you time from having to research mortgages. Mortgage brokers will also be able to source more options as some lenders only offer mortgages through brokers. 
Here at Molo, you can submit applications directly with us, as well as through a mortgage broker.  
Learn more: 
Can I get a buy-to-let mortgage with Molo
What is mortgage affordability?
How much you can borrow depends on the rental income of the property. Lenders use something called an interest cover ratio (ICRs) to determine how much you can borrow based on the rental income of the buy-to-let. 
An ICR is a ratio to which the rental income must cover the monthly mortgage payments, and it's tested on an assessment rate of approximately 5.5%. Higher fixed-rate products, such as a five-year fix, generally have a lower assessment rate. 
The minimum ICR that a lender can use is 125%, and some lenders may even apply a higher ICR depending on the property type. For example a house of multiple occupation (HMO) tends to have a higher ICR. This means the anticipated monthly rental income must be at least 125% of the monthly mortgage payment.
When it comes to eligibility criteria, every lender is different and it all depends on their risk appetite. Most lenders have strict eligibility criteria but there are some that take a more flexible approach. That's why it's important to check your eligibility when looking for a mortgage, so there are no surprises. 
Most mortgage lenders look at the following when deciding if you meet key lending requirements:


Resident status and residency

Income and affordability

Deposit

Credit history

Age
How can I check my eligibility before applying for a mortgage?
Age: 

Most lenders have a minimum age limit requirements and some may have a maximum age. 
Income:

This covers employment earnings, bonus, commission, rental income, investments, pension and any benefit income you receive. Not all lenders accept benefit income. 
Commitments:

Monthly outgoings, such as loans, credit cards, phone contracts, travel, childcare etc.
Credit history:

How have you handled previous credit? What is your credit score? Do you have any adverse credit history, such as county court judgments (CCJs), individual voluntary arrangements (IVAs) or bankruptcy?
Employment status:

If you are employed, self-employed, full time, part time, unemployed, retired or on a zero hour contract.
Deposit:

Savings, gifted deposit, investment drawdown, sale of a property or if you are raising capital on an existing property.
Mortgages are essentially products, and lenders have different options available to suit a wide variety of lending requirements. For instance, they will offer mortgage products at different interest rates depending on your deposit amount, or they provide interest-only and repayment products, over two, three, four, five years or longer. 
When getting a buy-to-let mortgage, you don't only need to think about the lender; it's also important to consider the product they offer and if it's right for your borrowing needs. Below, we outline the different types of mortgage products and what you need to consider before beginning the application process.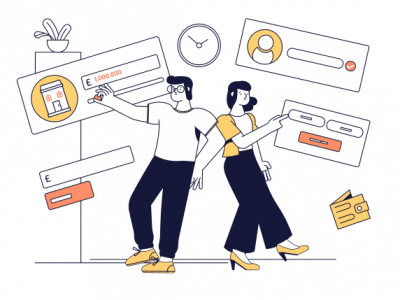 Get a mortgage in principle
It's free
It won't affect your credit score
It takes under 2 mins
Whether you're taking out a buy-to-let or a residential mortgage, there are two main types: repayment mortgages and interest only mortgages. Repayment mortgages are the most common for homeowners, while the majority of buy-to-let mortgages are interest only.
When you first start paying off your repayment mortgage, most of it goes towards the interest. The longer you pay your mortgage off, however, the more the interest decreases and you start covering the actual loan amount. Once you have finished your payments, the property is paid off entirely – you own it mortgage-free. 
Interest only means that you just pay the interest on the loan, with the actual amount borrowed staying the same for the duration of the mortgage. Once the mortgage term is up, you'll owe the initial amount  borrowed – if, for example,  you borrow £100k, at the end of the mortgage term you will still owe £100k. Borrowers need to prove they can pay off the entirety of the mortgage once the full terms have concluded.
Are buy-to-let mortgages interest only?
Yes, in the vast majority of cases, buy-to-let mortgages are interest only. There are repayment options available for buy to let, but you may find these are less profitable than an interest-only mortgage. A buy-to-let mortgage one interest only has cheaper monthly payments than a repayment option. Subsequently, you'll receive more rental income as less of it will go towards the mortgage. 
On the other hand, you won't repay any of the borrowed amount. That means you'll either need to refinance the loan when its term ends or pay back the entire mortgage amount, which may be hundreds and thousands of pounds. Most buy-to-let investors remortgage at the end of the term, although they may also decide to sell the property and use the achieved price to pay off the mortgage. 
Why are buy-to-let mortgages interest only?
The majority of buy-to-let mortgages are interest-only because you pay the interest and nothing else. Doing so makes your monthly repayments lower, which means your profit margins for the rent received are higher than if your mortgage was on a repayment plan.
Some lenders may allow you to borrow up to 95% of the value of a property, meaning your deposit would be as little as 5%. For instance, if you bought the property for £250,000 with a 95% loan-to-value (LTV), you would only need a deposit of £12,500. In this scenario, you can expect higher monthly mortgage payments – the lower your deposit, the higher the loan amount. 
It's also worth noting that most buy-to-let lenders don't offer 95% mortgages. Instead, it's more common to find mortgage products for 85% and 75% LTV. A 95% mortgage is more common with residential mortgages, where the borrower will live in the property as their primary residence. 
What is the minimum deposit?
The minimum deposit for a buy-to-let differs from lender to lender and could be as low as 5% of the property value for some lenders. As a rule of thumb, the average tends to be around 75%, although you would need to check with the lender directly. 
For Molo BTL applications, the minimum deposit required is 20% for standard buy-to-lets, and 25% for the new builds, and ex-local authority. 
What is the maximum buy-to-let LTV?
Again, the maximum LTV for a buy-to-let differs from lender to lender and could be as high as 95% for some mortgage providers.





For Molo BTL applications

,

we consider up to

80% LTV applications and would require you to evidence the remaining 20% (showing us how you will fund 20% of the property's value). 
What is buy-to-let yield?
Buy-to-let yield refers to the return on investment generated by a buy-to-let property. It's calculated by dividing the annual rental income by the total investment in the property, including the purchase price and any associated costs such as legal fees, stamp duty and renovation costs. The resulting figure is expressed as a percentage, representing the yield on the investment.
For instance, if a buy-to-let property generates £12,000 per year in rental income, and the total investment in the property was £200,000, the buy-to-let yield would be 6% (£12,000 divided by £200,000).
The yield is an essential factor to consider when investing in a rental property, as it helps investors determine whether the property is likely to generate a good return on investment. A higher yield indicates a more profitable investment, although you should balance the yield against other factors, such as the potential for capital growth and rental demand.
Most lenders will allow you to apply for a buy-to-let mortgage either directly or via an intermediary (broker)
An intermediary (broker) searches the market on your behalf and offers their advice and guidance on how you should proceed, submitting the application on your behalf once you've decided on a mortgage product. 
If you choose to do so, most lenders will allow you to apply directly either via their website, a phone call or a visit to their branch. You can compare lenders online using search comparison websites, such as GoCompare and Money Supermarket.
Each lender has slightly different document requirements for a buy-to-let application. There are some documents that would be considered "industry standard" such as payslips and P60s to evidence earned income and bank statements to evidence expenditure over a certain period. 
Typical documents needed for a buy-to-let mortgage
Proof of identity,

such as a passport or driving licence
Proof of address:

Utility bills, bank statement or council tax bill
Evidence of income:

Payslips if you are employed, or tax returns and accounts if you are self-employed
Bank statements:

You may need to provide bank statements for the last three to six months to show your income and spending habits
Proof of deposit:

You'll be required to provide evidence of the deposit, such as bank statements or proof of sale of another property.
Property details:

Details of the property you are purchasing, including the address, purchase price and estimated rental income.
Download Molo guide if you are applying for a buy to let mortgage with Molo : Molo Packaging Guidelines 
Buy-to-let stamp duty
Stamp duty isn't part of the buy-to-let mortgage process, but it is an additional cost you'll likely need to factor in when working out how much deposit you have available. 
In recent years, the buy-to-let market has been impacted by several changes that have made it more challenging for landlords to maintain their properties. For example, the 3% surcharge introduced in 2016 for stamp duty on second homes or buy-to-let properties made it more expensive to buy an investment property. 
In addition, the government also reduced the mortgage interest relief that landlords could claim in 2017. This change means that higher and additional rate taxpayers may now pay more tax. While these changes may make it more difficult for some landlords to purchase and maintain buy-to-let properties, buy-to-let investments can still be a worthwhile option depending on factors such as the property's location, type and condition.
Buy-to-let cost and fee
When looking to purchase or remortgage a buy-to-let, you will need to take into account all the costs associated. These include the initial cost of the property, the letting costs and the running costs.
If you're looking to get a mortgage on a buy-to-let, then you'll need to take into consideration the following costs:
Broker fees if you submit the case using a broker. Most brokers are free, but some charge for their services

You may need to pay a valuation fee and potentially a re-inspection fee if needed

Following a valuation, there may be specialist reports required and work being carried out to the property

You will need to pay a product fee (you can check if this can be added to the overall loan)

Solicitor fees will also need to be taken into account as the lender will request a solicitor review the offer and make sure everything is okay. Applicants will be charged these fees and also their own solicitor fee if they use a firm not on the lenders panel

Stamp duty fees will also need to be taken into account for purchases. This is a one-off payment which is additional to the purchase price

If the property is brought unfurnished, you will also need to take additional costs, such as buying furniture, into account. Alternatively, you can decide to let it unfurnished. 
When considering the letting costs, you'll need to think about the letting agent that you place the property with as agents charge different amounts to try and secure the property. You should also consider the annual fees they charge for looking after the property and general running costs as these can also be different from each letting agent or management company.
There are also general running costs of a buy-to-let property:
The general wear and tear a property goes through and the maintenance costs

The service charge and ground rent that is paid if the property is part of a leasehold

You'll also need to take into account the mortgage payments and consider rental voids if you don't have a tenant in place when mortgage payments are due.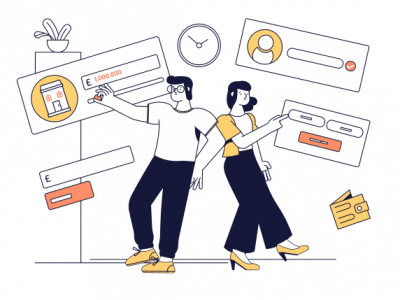 Get a mortgage in principle
It's free
It won't affect your credit score
It takes under 2 mins
Managing a buy-to-let property can be a challenging task, but there are several steps you can take to help ensure it runs smoothly. Here are some key things to consider when managing a buy-to-let property:
Tenant selection
One of the most important things you can do is select the right tenants for your property. This means conducting thorough tenant screening, including background checks, credit checks and references. A letting agent can do this on your behalf.
Regular maintenance:
It's important to keep the property well-maintained, both to keep tenants happy and to ensure the property retains its value. This may include regular cleaning, repairs and maintenance, as well as periodic inspections to check for any issues that may need attention.
Rent collection:
Have a clear rent collection process in place to ensure that tenants understand their obligations when it comes to paying rent. This may include setting up automatic payments or reminders, and having a plan for dealing with late or missed payments.
Compliance
As a landlord, you are responsible for complying with a range of legal requirements, such as ensuring that the property meets health and safety regulations and providing tenants with certain information, such as a copy of the tenancy agreement and the government's "How to Rent" guide.
Communication
Maintaining good communication with your tenants can help to avoid misunderstandings and ensure that any issues are dealt with promptly. This may include setting up regular check-ins or providing tenants with a point of contact for any questions or concerns they may have. Alternatively, you can have a management company or letting agent do it on your behalf for a fee. 
Learn more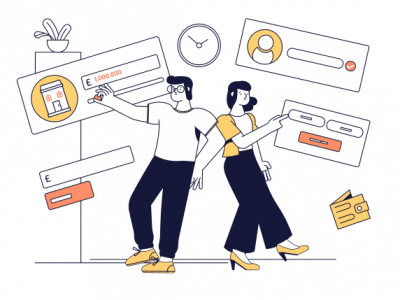 Get a mortgage in principle
It's free
It won't affect your credit score
It takes under 2 mins