Conveyancing process guide - Purchasing a buy-to-let
Learn more about conveyancing process for buying a buy-to-let property
Conveyancing is the legal work involved in transferring the ownership of land from one person to another. It's carried out by solicitors or licensed conveyancers, who'll charge a fee for their services (unless the cost is included in the mortgage product you've chosen). They'll deal with all the necessary legal work and advise you on the contract and legal documents, obtain detailed information about the property and raise any issues or concerns with the other party's conveyancer.They'll ensure the property is suitable for you and that ownership is safely and securely transferred into your name.
Conveyancers also act for Molo. Our conveyancer ensures that the property is not subject to any restrictions and is good 'security' for the amount of the loan and is responsible for 'securing' the mortgage against the property by registering a charge against the title at HM Land Registry.
The legal work can begin either during the application process or once you have received your offer and is completed once you have the keys to your new home, with final legal work being wrapped up once the transfer is registered at HM Land Registry and, if you apply as a company, at Companies House.
Learn more:
What's the difference between a solicitor and conveyancer?
The core difference between the two is in their expertise and breadth of knowledge. A solicitor is a qualified lawyer with training in different branches of the law. They'll have a wide range of knowledge on lots of subjects and offer a wide variety of legal services.
A licensed conveyancer is a specialist in the legal aspects of property sales and purchases.
So both a solicitor and a licensed conveyancer can handle the legal work that goes into getting a mortgage. For us at Molo, we'll often use the two terms interchangeably.
Learn more: 
What happens during the conveyancing process?
The conveyancing process starts once you've instructed your chosen conveyancer to begin the process, often prior to an offer being issued. The lender will send documentation and relevant instructions to the conveyancing firm that act for them, so they can handle all the legal and administrative work related to your transaction.
You'll likely be presented with different conveyancing representation options:
Dual Representation: The chosen conveyancer will act for both you and your lender in the purchase. This conveyancer will be on the mortgage lenders "panel" of trusted conveyancers.
Separate representation: You can choose your own conveyancer to act for you. Perhaps you have a firm that you know and trust and would like to continue working with? Remember that the lender will also need to appoint a conveyancer to carry out legal work on their behalf. This will likely carry an additional fee.
Depending on what conveyancing option you choose, your conveyancer will have different responsibilities. In addition, the type of mortgage you have applied for will determine what work is needed during the conveyancing process. There tends to be more steps needed during a residential application than a buy-to-let application, for example. Some of the responsibilities for both types of representation are listed below:
How long does conveyancing process take
There is no definite timescale for how long conveyancing can take as there are many factors to consider and often multiple third parties involved in the transaction that can cause delays. On average it can take between 6 – 12 weeks from when the conveyancing starts to when you receive the keys to the property. However on some occasions it may take longer.
One of the main factors that can affect the time of the conveyancing process is whether or not a 'chain' is involved, i.e. you are buying from someone, who is buying from someone else and so on. There are multiple related property transactions in progress at the same time. The longer the chain, the more complex it can get.
Another factor to take into account is the conveyancing option you choose. Separate representation can sometimes take longer than dual representation due to the additional layers of communication in the transaction.
Generally the conveyancing process starts as soon as the conveyancer is instructed. Some conveyancers will start the conveyancing when they receive the mortgage offer.
Initial contact made by Conveyancers to you
Conveyancing file created by your case handler
Your case handler will carry out ID checks and send you a 'conveyancing pack' detailing what information is required from you
How much will a conveyancer cost?
The average conveyancing fee will depend on the type of transaction and the valuation of the property.
The main legal fee will generally be based on the loan amount or the purchase price.
Depending on the type of transaction, there may be additional fees charged.. For example if you are buying a leasehold property or changing the owners of the property. Or if the transaction is complex, for example, buying a House in Multiple Occupation (HMO). This will mean additional checks that the conveyancing solicitor will need to undertake, which in turn will create additional costs.

The work that the conveyancer will undertake is often complex, with multiple third party involvement. This requires skill and expertise to ensure that the transaction completes smoothly and that the property you are buying is suitable for your purposes. As with anything, you will have to pay for this level of expertise.
If you choose to be separately represented, you will almost certainly have additional costs to bear as you will likely have to pay for two conveyancers.
Get a Mortgage in Principle
Find out how much you might be able to borrow from us.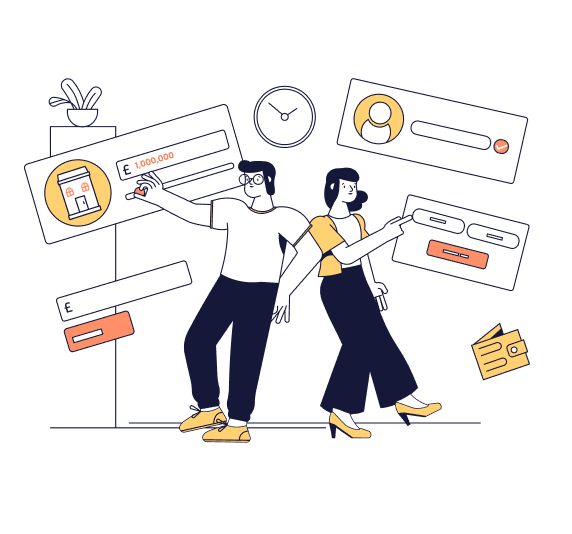 Getting your Mortgage in Principle is free and shows how much we are able to lend you.
It won't affect your credit score
We make a "soft" check with our credit agency partners, which means the results won't impact your credit score.
Get your Mortgage in Principle in less than two minutes, straight from your computer or phone.