Remortgage your property, easily online
Switch to the online lender made for the 21st century
Here's what you need to do to get your mortgage in minutes
Check your eligibility
Answer a few questions about you and what you think you'd like to borrow
Mortgage in Principle
We'll let you know whether we can lend to you and how much you can borrow
Property check
Tell us a bit about the property you'd like to buy
Choose your mortgage
Select the mortgage that's right for you
ID verification
Upload your ID and take a selfie so we can check you're you
Mortgage offer
If you and your chosen property meet our lending criteria, we'll agree your mortgage offer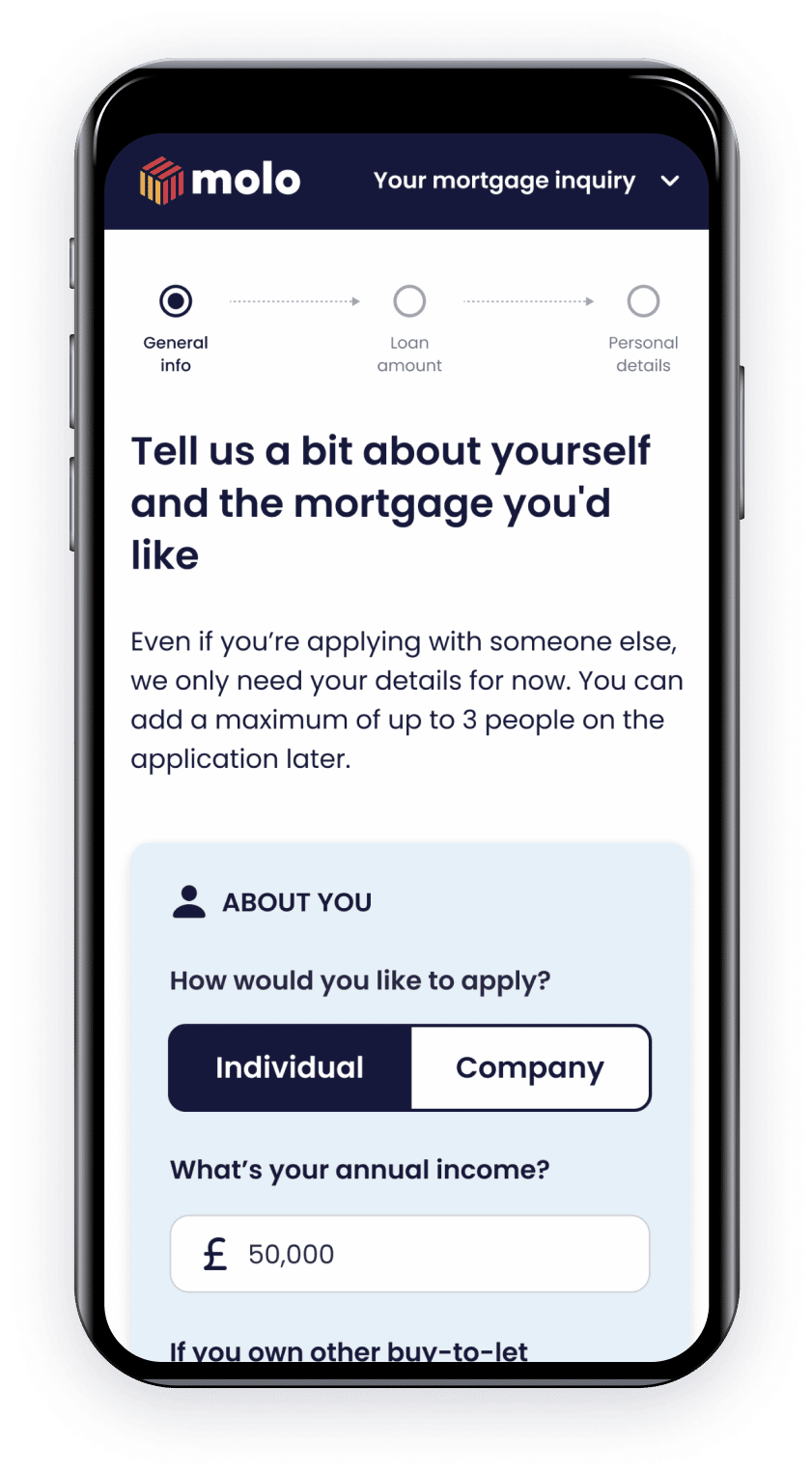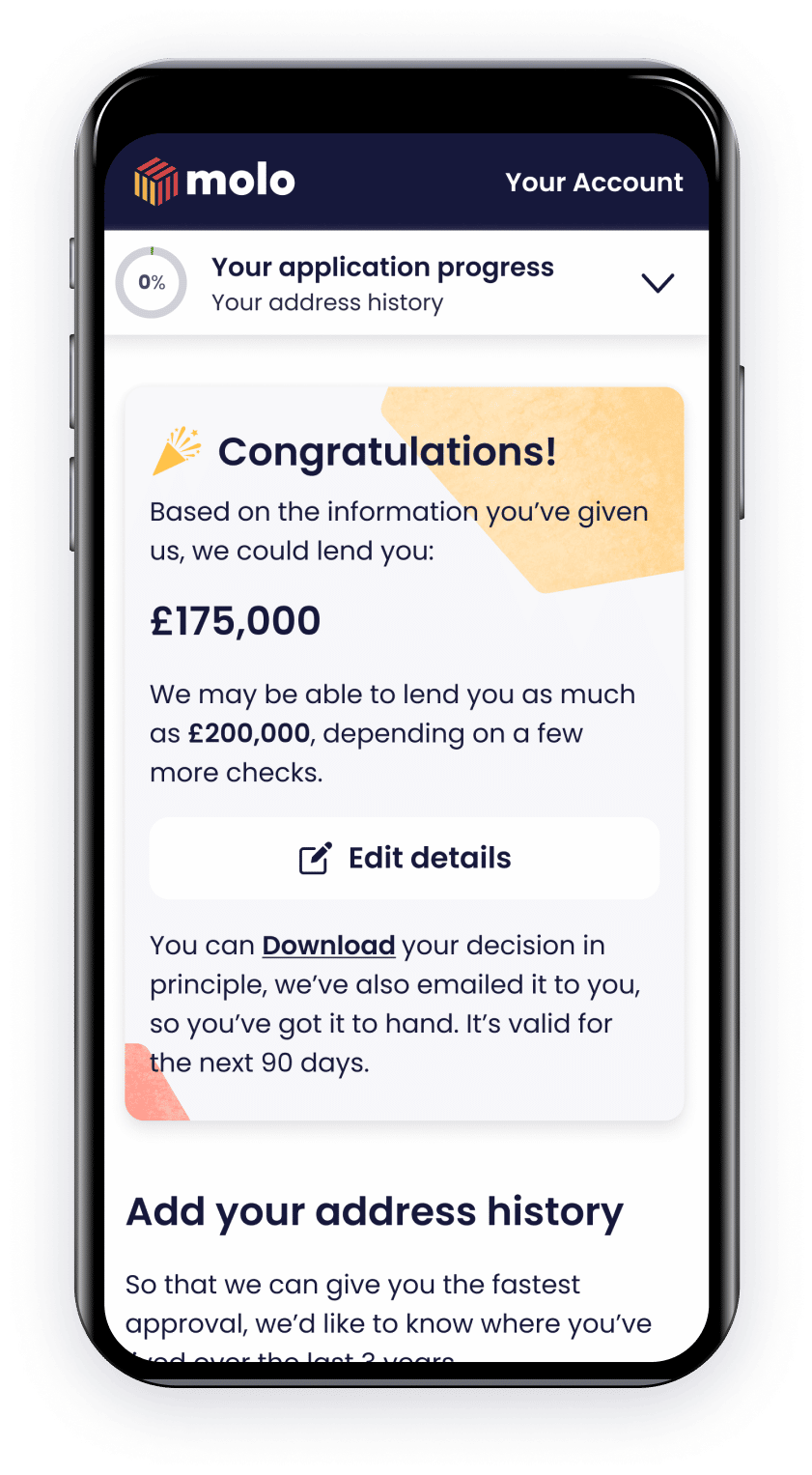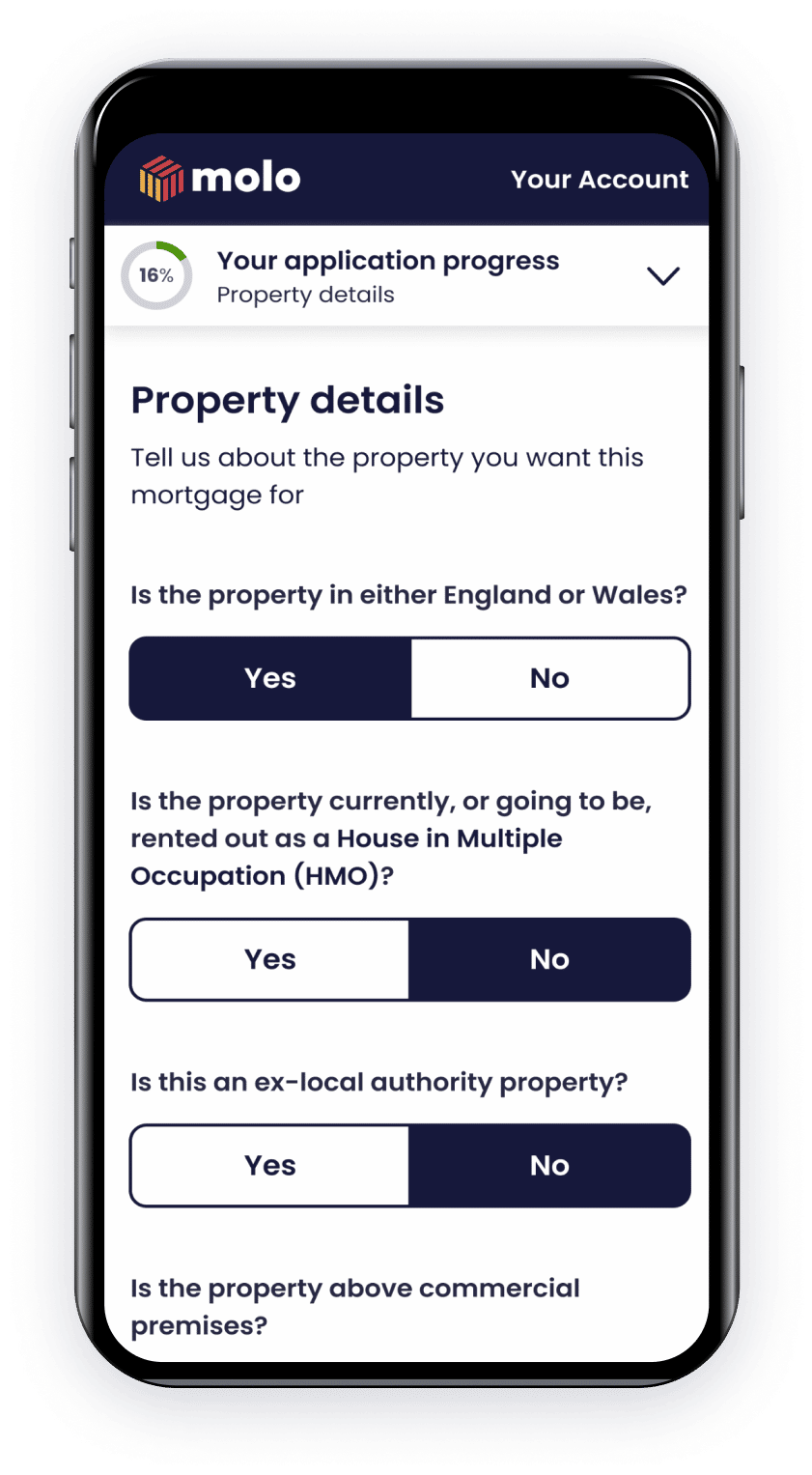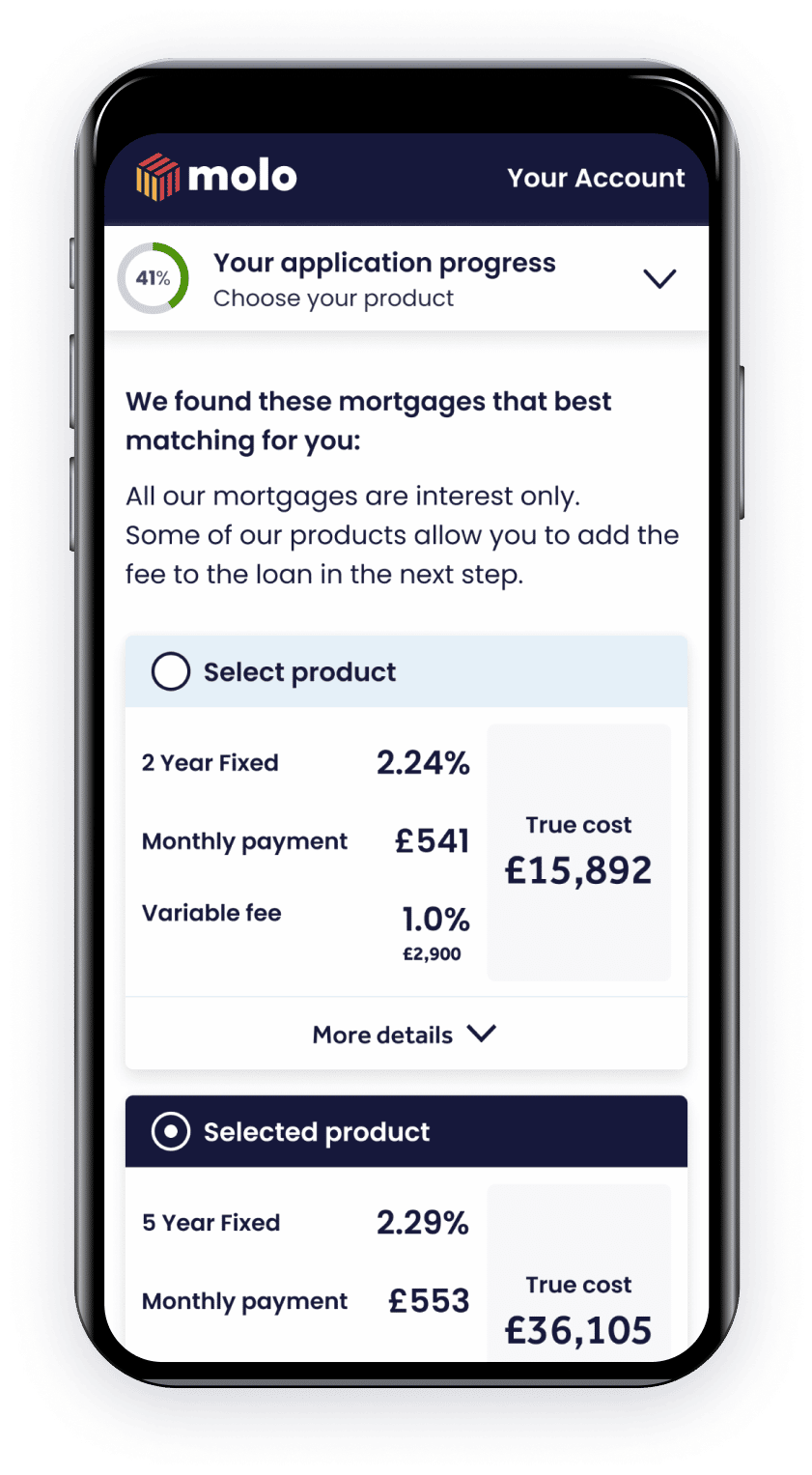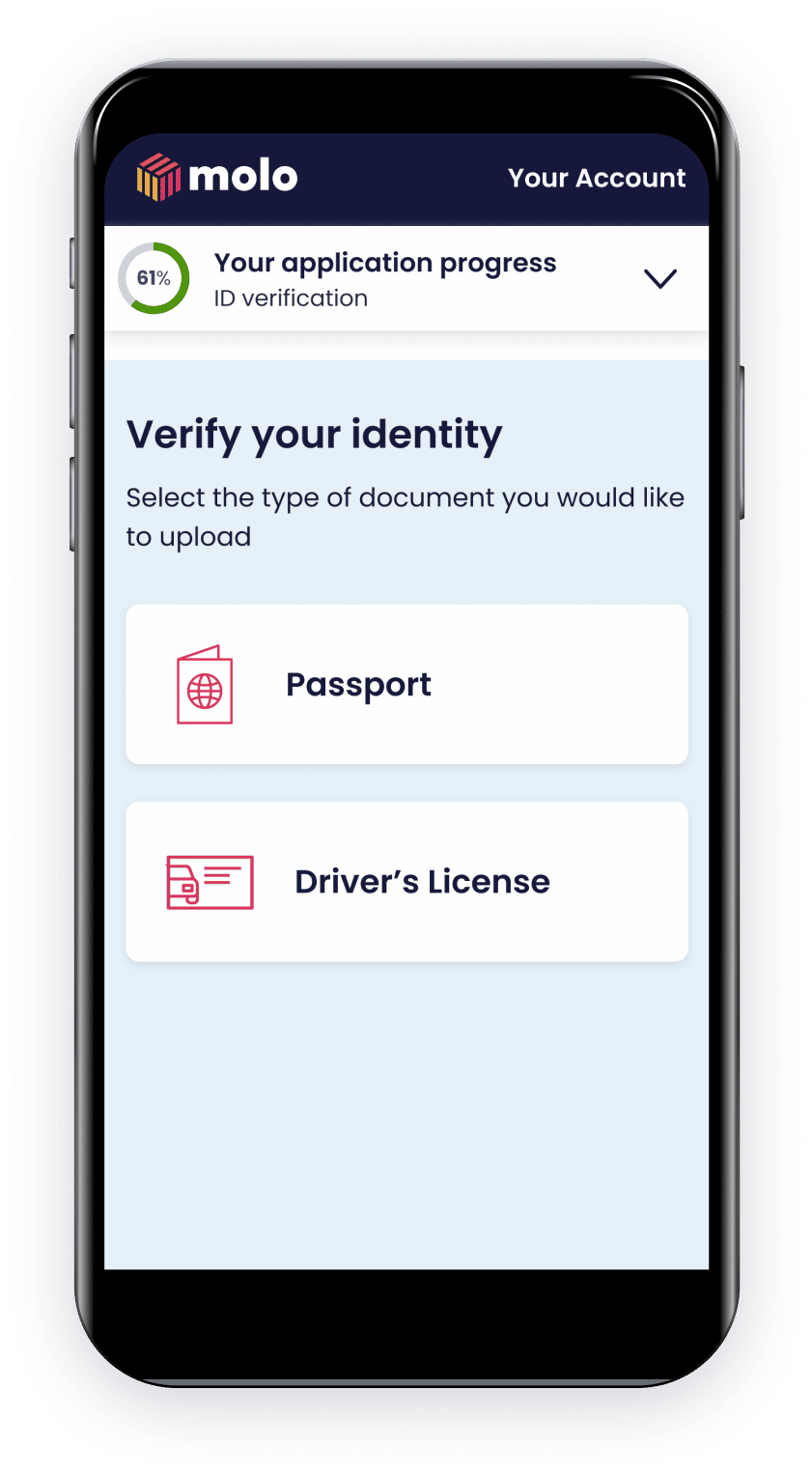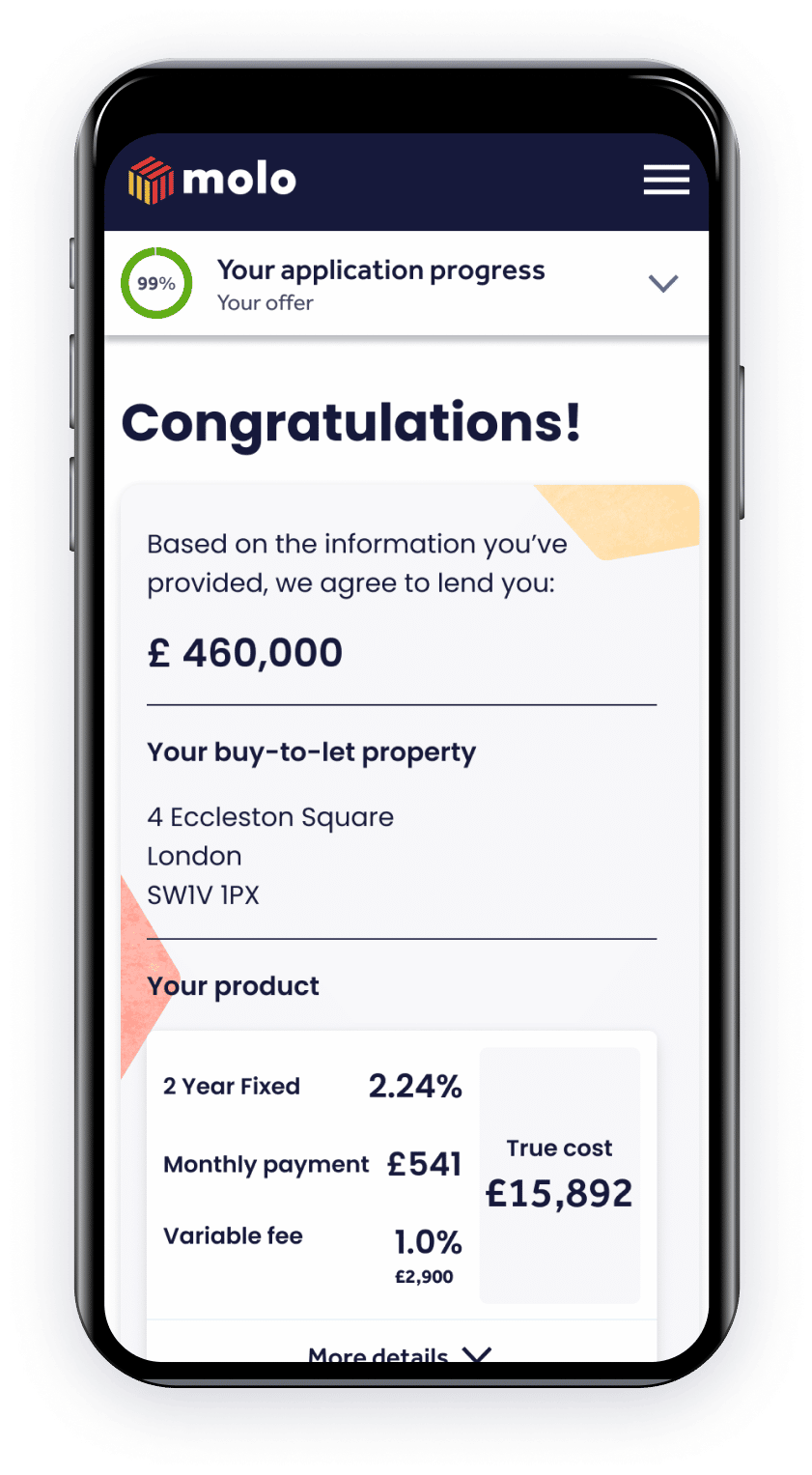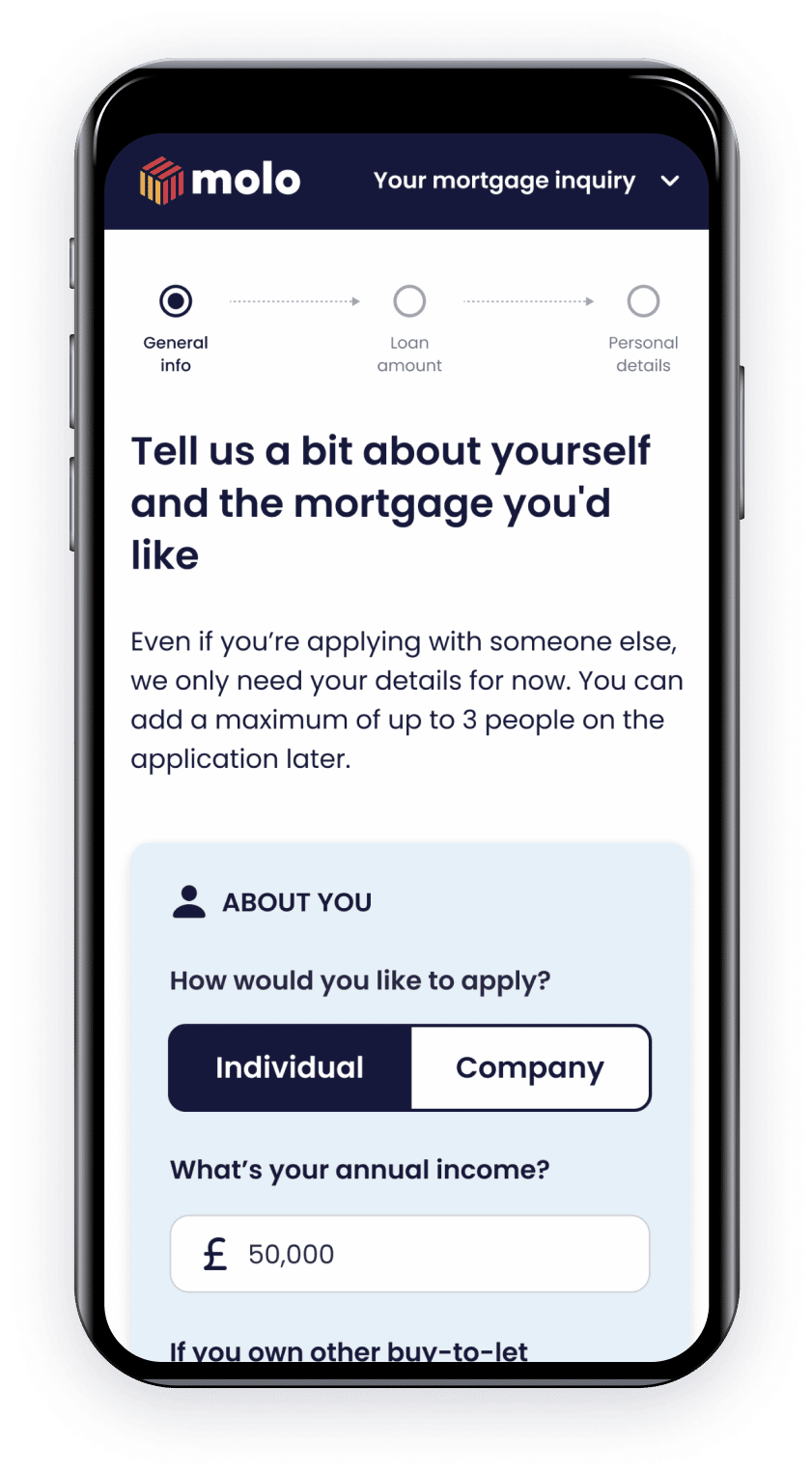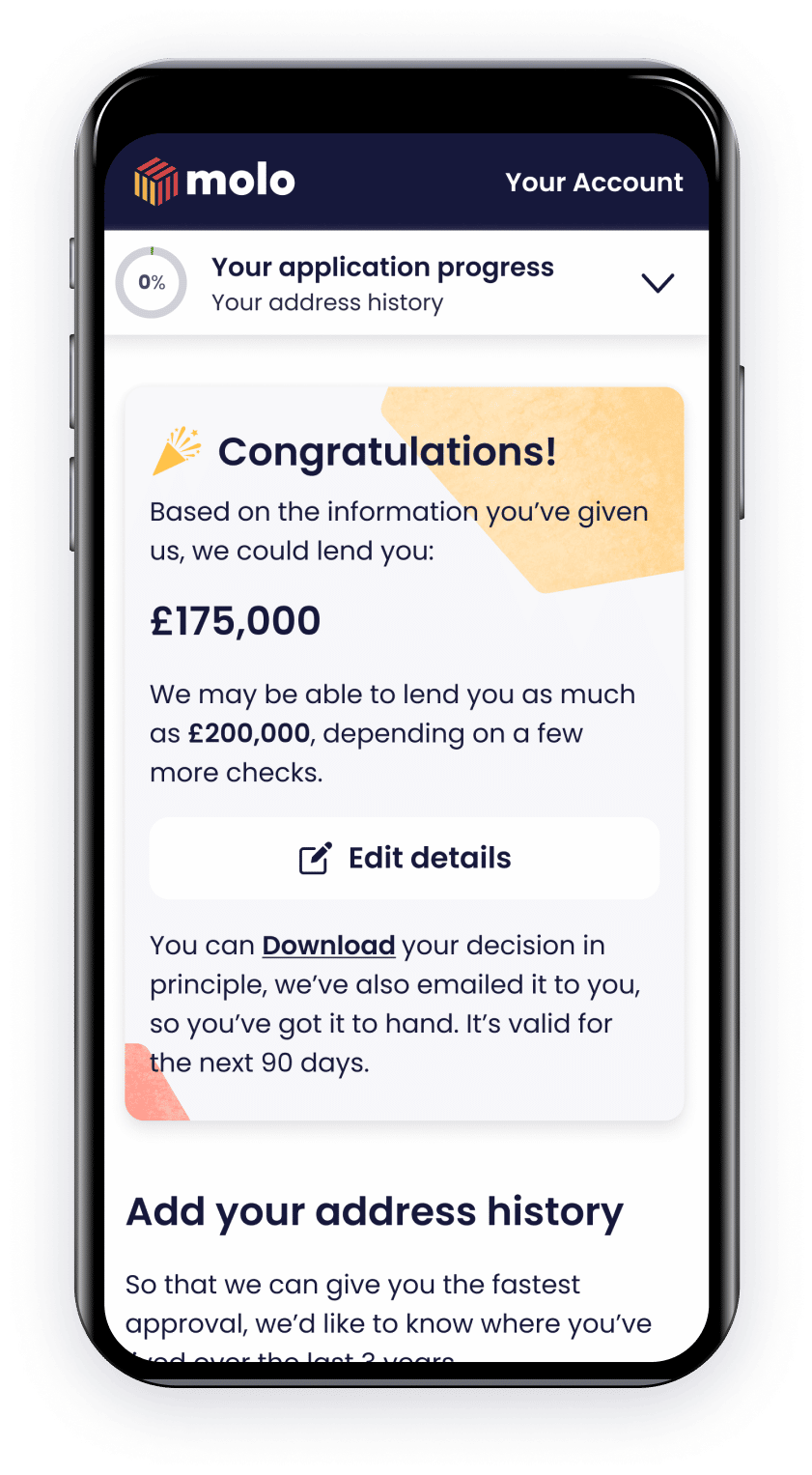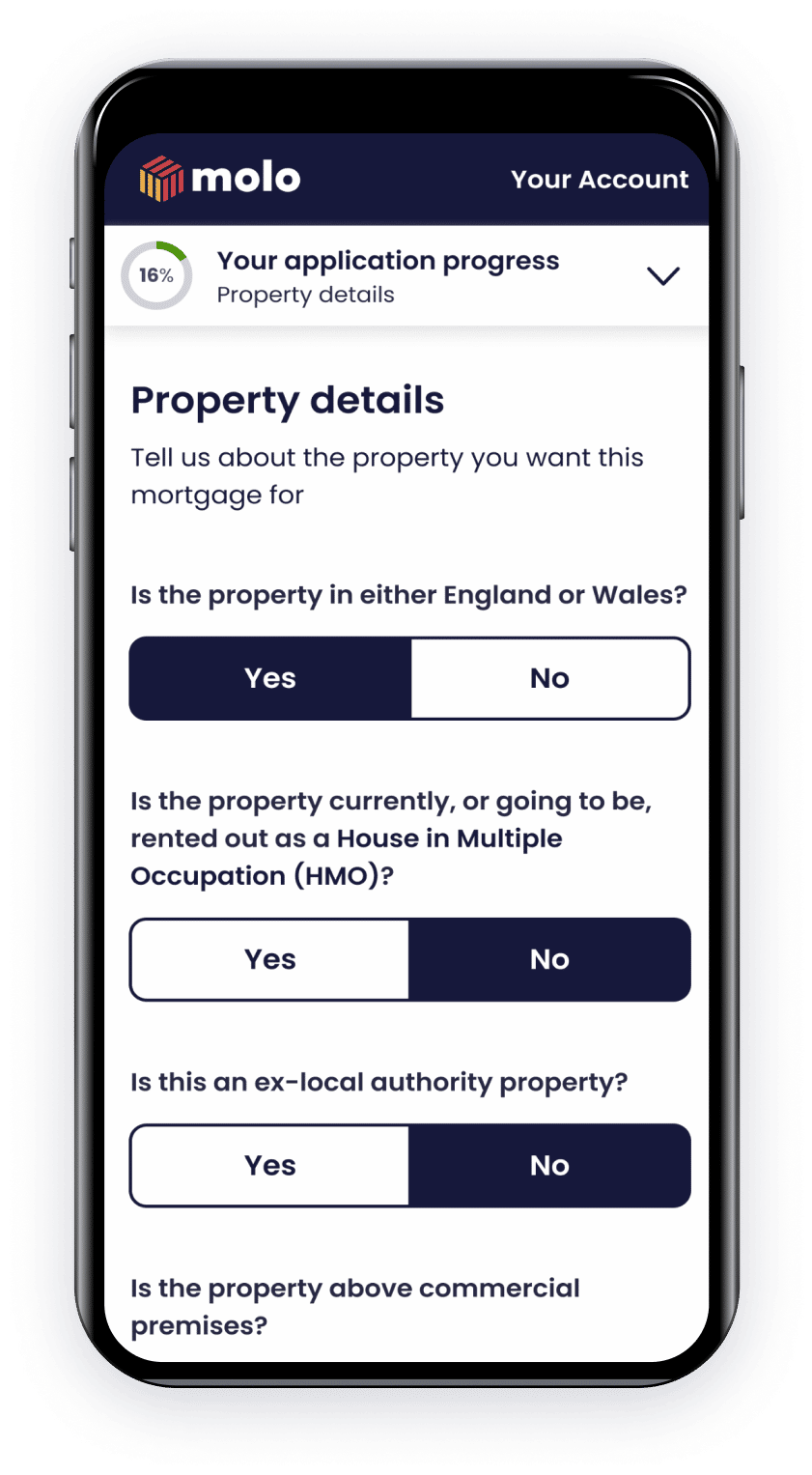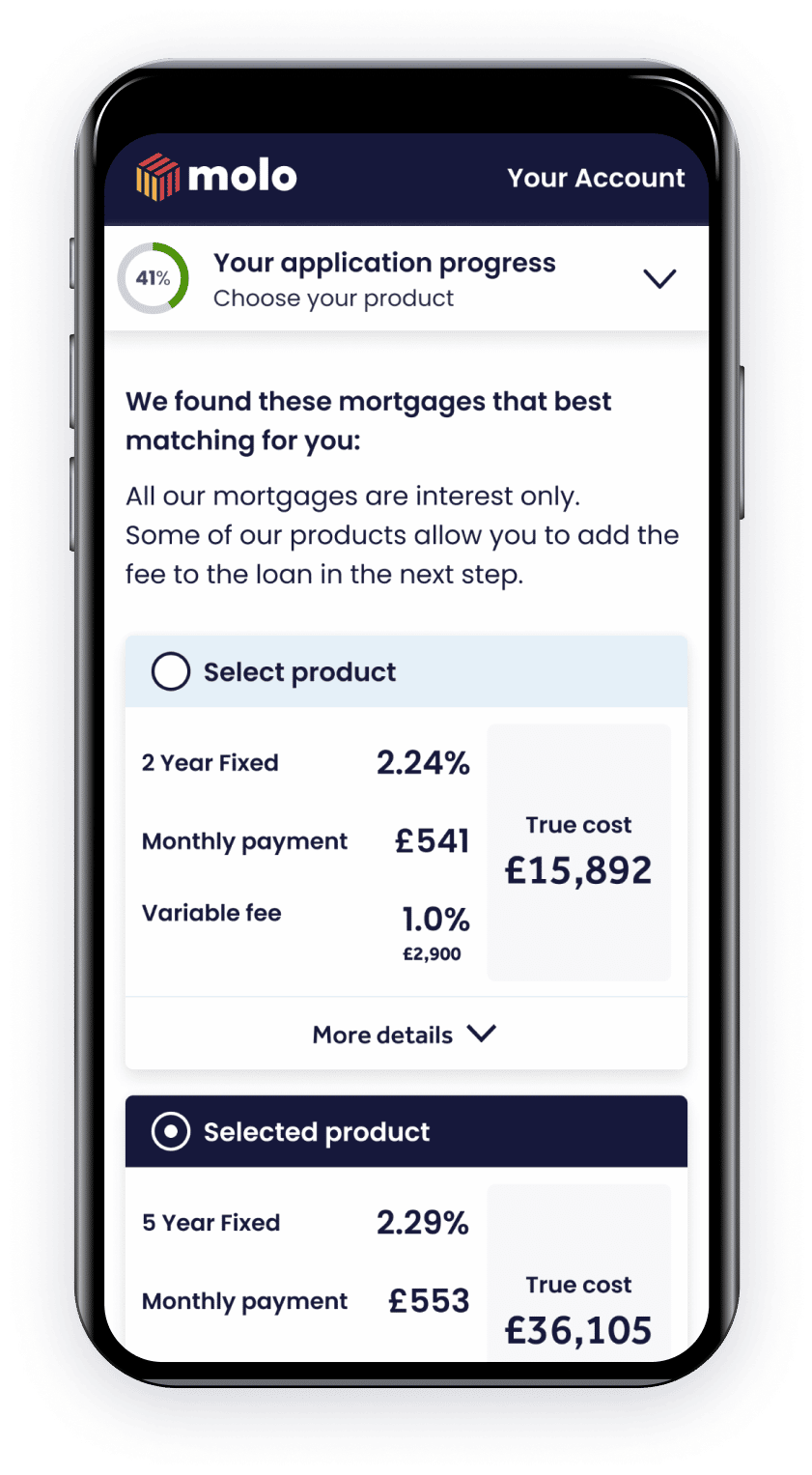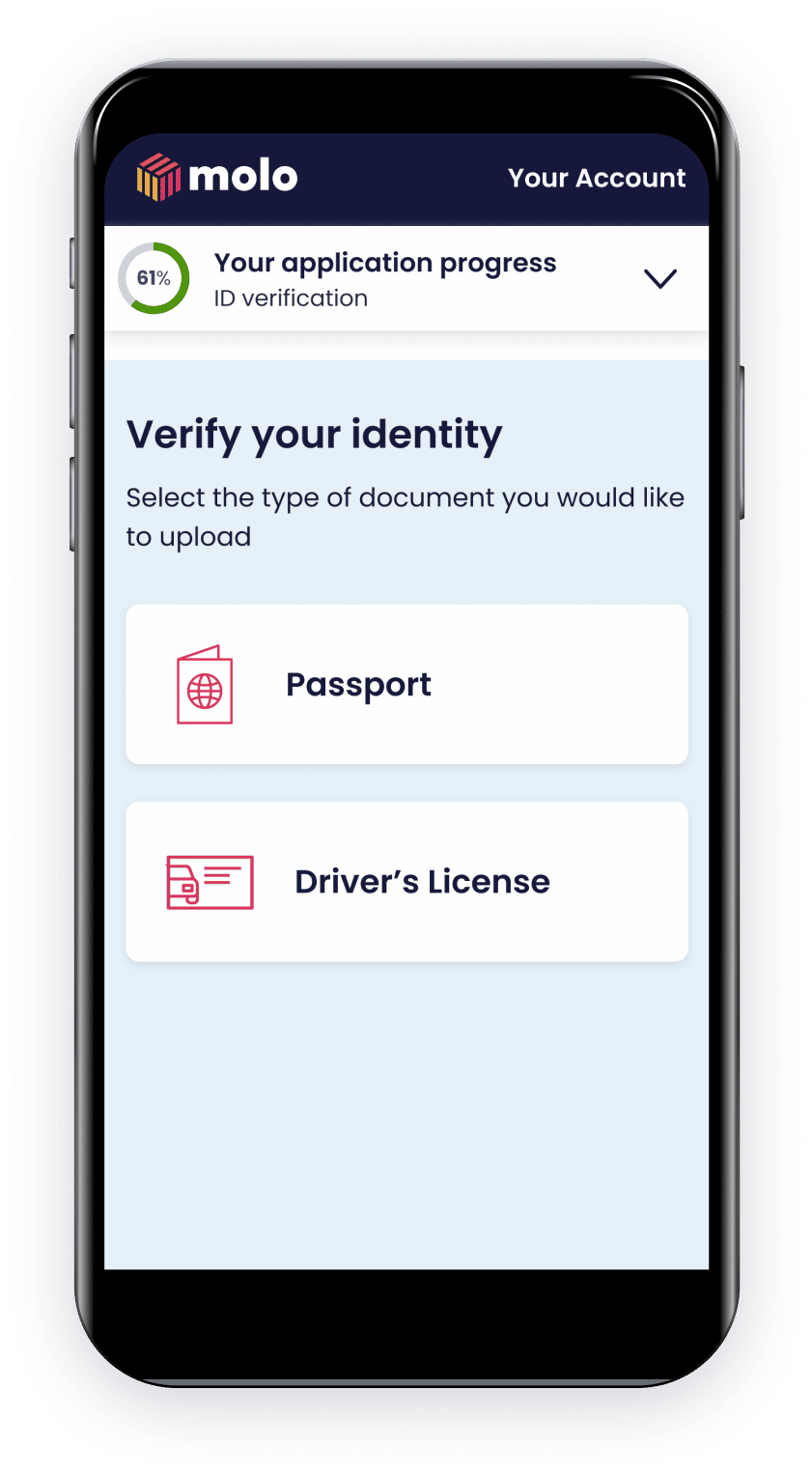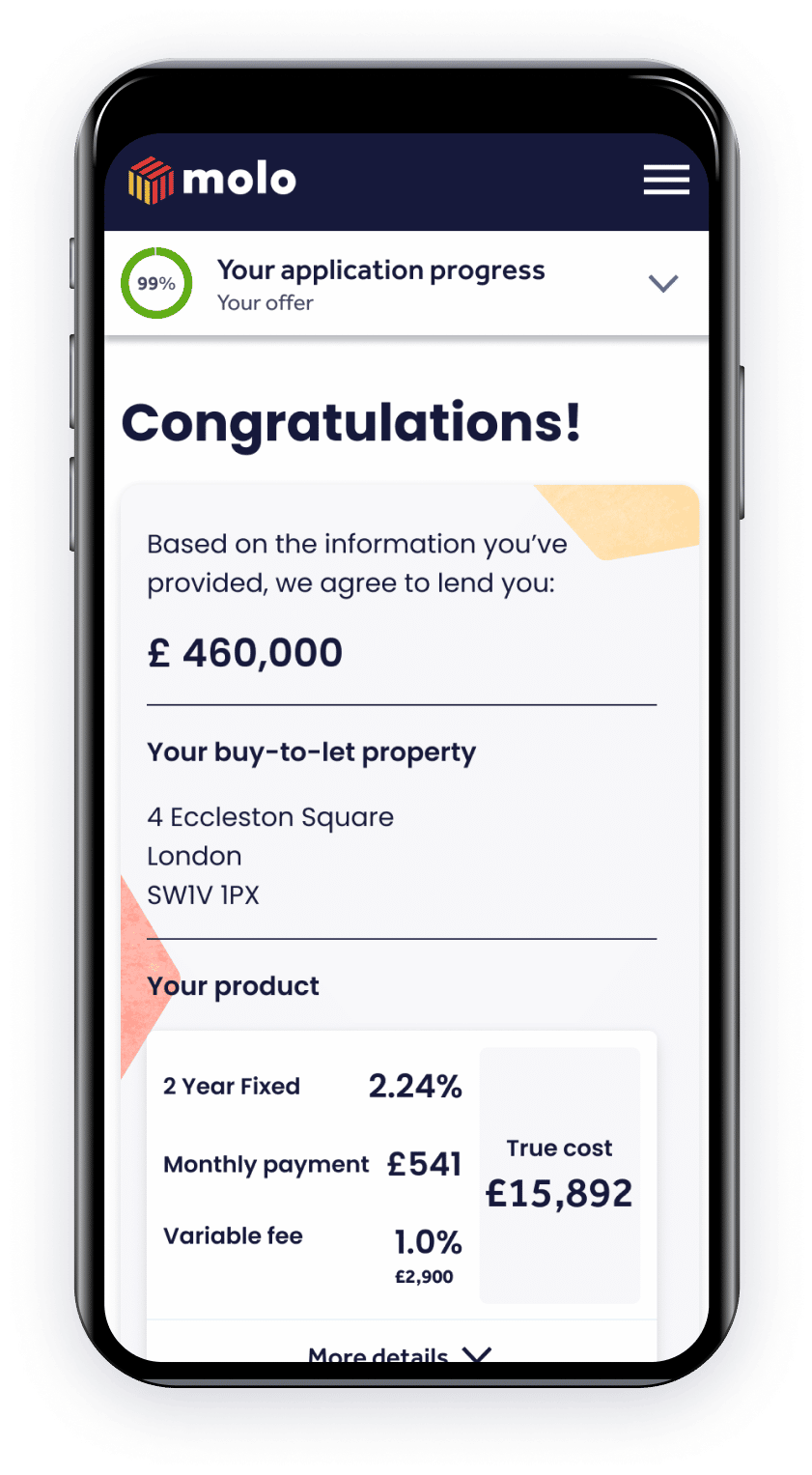 Check your eligibility
Answer a few questions about you and what you think you'd like to borrow
Mortgage in Principle
We'll let you know whether we can lend to you and how much you can borrow
Property check
Tell us a bit about the property you'd like to buy
Choose your mortgage
Select the mortgage that's right for you
ID verification
Upload your ID and take a selfie so we can check you're you
Mortgage offer
If you and your chosen property meet our lending criteria, we'll agree your mortgage offer
Hear what people are saying about Molo
We make it easier for people to buy a house with an online mortgage loan
" Have been dealing with Molo for a while now and they're a great lender with an easy to use system. Would definitely recommend giving them a go "
Jamie
United Kingdom
See more Trustpilot reviews
See what other customers say
Learn more about remortgages
There are several reasons when you can remortgage:
To reduce your monthly payments

To pay off a larger amount and reduce the remaining term

To borrow more to fund renovations, etc
Usually, you'll want to start the remortgage process around three months before the end of your current deal. This should allow more than enough time to complete the process before lapsing onto the lender's (usually) more expensive Standard Variable Rate.
There isn't a limit to the number of times you can remortgage. However, the timing is important to avoid any penalty fees.
Remortgaging is usually done at the end of your initial period (usually 2 or 5 years) to avoid lapsing onto a lender's higher Standard Variable Rate. So you might remortgage 12 times over a typical 25 year period.
If you remortgage during a fixed term deal, you might have to pay a penalty called an early exit fee. This can be expensive and should only be considered when absolutely necessary.
Yes, you can. There are certain circumstances when you might want to bite the bullet and pay an early exit fee to remortgage in the middle of a fixed rate deal.
To immediately sell a property and pay off the mortgage in full

To take advantage of a much better mortgage deal

To release equity in your home at short notice, etc
In all situations, it's important to consider what the exit fee will cost as it's usually a percentage of the remaining loan amount (which can work out to be a lot!) If in doubt, seek advice from an independent financial adviser.
If you have a fixed term mortgage, you'll need to wait until the end of its initial term (usually 2 or 5 years) to avoid paying a penalty. The remortgage process can begin several months beforehand, but you'll only be able to switch to the new deal once your current one has finished.
You can still remortgage during the initial period if you wish, but you might need to pay an expensive early exit fee to do so.
If you don't have a fixed term mortgage (a variable rate, for example) then you should be able to remortgage at any time without penalty.
Get a mortgage with Molo in minutes
Your home may be repossessed if you don't keep up repayments on your mortgage.